Best(and cheapest) Keyword Research Tools For Makers - 2022
A review of the most powerful keyword research tools for makers on a budget.
You have your domain name, your idea and your blog. Now you just need search traffic and you heard that keyword research is the way to go.
But which keyword research tool do you use? And damn, they're all so expensive!
Keyword research is like one of the dark arts of the founders world. But like all dark arts, the tools of the trade can come at a cost - in this case, financially.
In this post I hope to show you  the most powerful, yet economic keyword research tools available for budget conscious founders and makers.
But first, the results!
Let's start at the end, since that's the main reason you're here. The best budget-conscious keyword research tools are;
| Service | Best for | Not ideal for | Notable feature | Starting at |
| --- | --- | --- | --- | --- |
| KatLinks | Saas founders | Content creators | Backlink tools | $14 mo |
| Keywords Everywhere | Tight budgets | Saas | Works on Google Search | $10 for 100,000 credits |
| LowFruits | Beginners | Experts | Easy to find rankable keywords | $25 for 2,000 credits |
| Mangools | Experienced | Tight budgets | Pro-level tools | $29 mo(paid annually) |
Now let's dig in and explore.
Table Of Contents
Community recommended options
There is a gamut of options out there.
My basic approach to narrowing down our options, as per usual, was to just sniff around places like Tech Twitter, IndieHackers and Reddit to see what people were recommending.
This revealed most of the well-known players, but also a couple of new ones.
Our list of community recommended options is a good starting point, but still too large. We needed to narrow down our requirements to find the options specifically applicable to scrappy indie makers.
Our requirements
We want to find the most cost effective SEO keyword research tools.
If you don't have monetary restrictions, just go with one of the big, well-known players in the game, since they will definitely deliver what you require.
For the rest of us I wanted to find the upcoming gems. The underdogs with spunk.
The basic requirements I have for our SEO research tools are;
must have a no-card free trial period or pre-paid plan
must cost less than $100 per month
must offer a reasonable amount of data on the base plan
Must have a no-card free trial or pre-paid option
I don't want to risk signing up for a service that would immediately charge my card a huge amount of beans when my trial ends. AND then have me jump through hoops trying to cancel it.
I, personally, definitely can't do that with multiple services just to write this post. 😅
Must have a plan costing less than $100 a month
Pointing to my (quite empty) wallet yet again, when we do eventually intend to commit, it must at least be affordable enough for a regular person living in the real world.
This post is not aimed at the Valley Gods or those with established, cash-generating blogs. This post is for beginners like me.
$100 a month will be our cut-off amount. Even that is still a heck-hell of a lot of money. Where I live, it's the equivalent of the repayment of a small, but luxurious, students' car.
Sure, having access to valuable search data could be argued to be worth it. It's indeed a powerful weapon... if wielded properly.
And that's a big expense for an if.
Besides, if it turns out we have the chops to convert that data into torrents of traffic, then we could just open up our wallets without abandon. Until then, let's not be hasty.
Must give a reasonable amount of data
The basic plan must not be too restrictive. I define that as allowing for at least 100 searches for keywords and domain related queries per month.
For instance, looking at my own site, RikReviews, I must be able to get enough useful data to write at least one SEO optimised article a week. That's not a big ask. That's like one main keyword and a couple of long-tail keywords.
If the basic plan's only function is to try and frustrate the user into upgrading, then it's a big, fat no from me.
With that settled, let's look at some of the most popular community recommendations.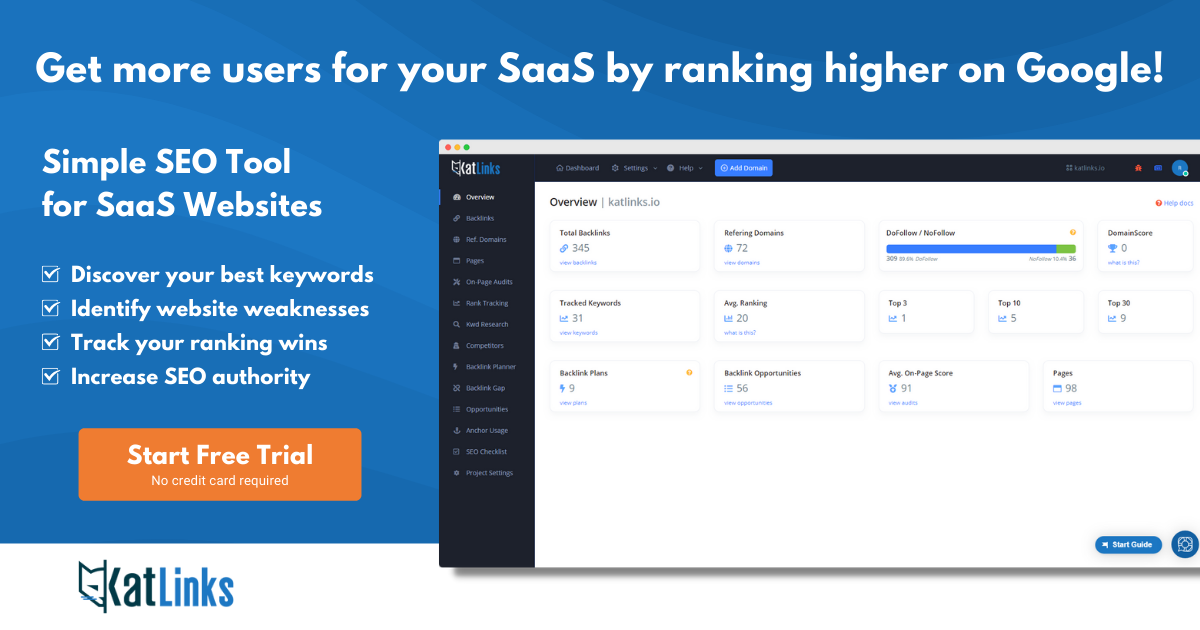 KatLinks is a tool run by Roberto Robles, a well known cat(sorry 😔) in the indie maker community.
✅ No-card free trial or pre-paid
✅ Less than $100 per month
✅ reasonable amount of data
KatLinks qualifies!
---
Ahrefs is the big gorilla on the block. It's THE most popular keyword research tool in the community. By far.
Most people who even get an inkling of wanting to mess around with SEO just default to it. But, you definitely pay for that choice of convenience. It can get pretty pricy pretty quick.
But let's give it the benefit of the doubt and see if it qualifies.
⛔️ No-card free trial or pre-paid
✅ Less than $100 per month
✅ reasonable amount of data
Ahrefs doesn't qualify. I guess it's just so popular that they don't feel the need to allow trials. Pity, I really wanted to see how they'd compare.
Not today then, gorilla, not today.
---
LowFruits seems to be the new comer to this scene. It looks like it was started around 2020 by indie maker Paul P. I like promoting fellow indie makers, so I hope they qualify!
✅ No-card free trial or pre-paid
✅ Less than $100 per month
✅ reasonable amount of data
LowFruits is in! It looks like a nifty little service too, aimed at helping you find what you need to rank your articles as fast as possible.
---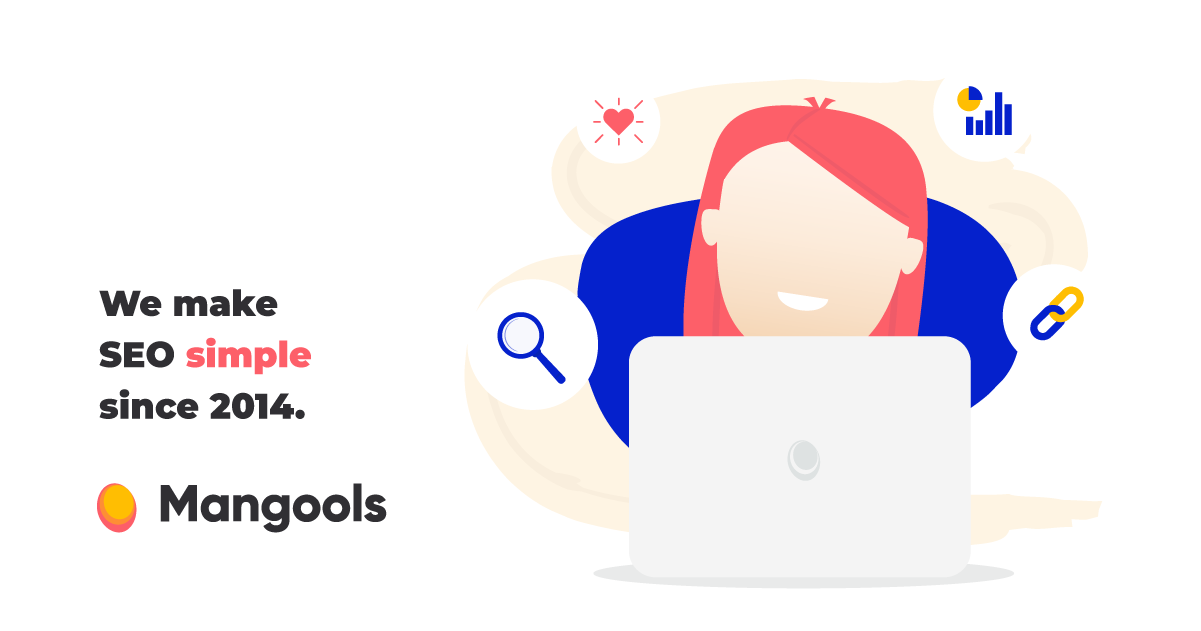 I just love the landing page for Mangools. Very fun!
This one's a little under the radar for just how powerful a solution you get. They have a reputation as being reasonably priced, easy to use, and offering a pretty solid, mature set of tools.
But do they qualify for this post?
✅ No-card free trial or pre-paid
✅ Less than $100 per month
✅ reasonable amount of data
Why yes, they do!
---
MOZ was the first SEO tool I've ever heard of, way back in the early naughts.
I think they made the first SEO browser plugin too, but don't quote me on that. They're so big and pervasive that they tend to blend into the background a bit, like Google or Amazon.
Like with Ahrefs, I'm concerned they may be so confident and established that they might not want to allow riff-raff like me to just tinker with their products. Let's see.
⛔️ No-card free trial or pre-paid
⛔️ Less than $100 per month
✅ reasonable amount of data
And no, unfortunately not. They do have a free trial, but you have to give your card details upfront and then after it's well above our $100 limit. Oh well.
---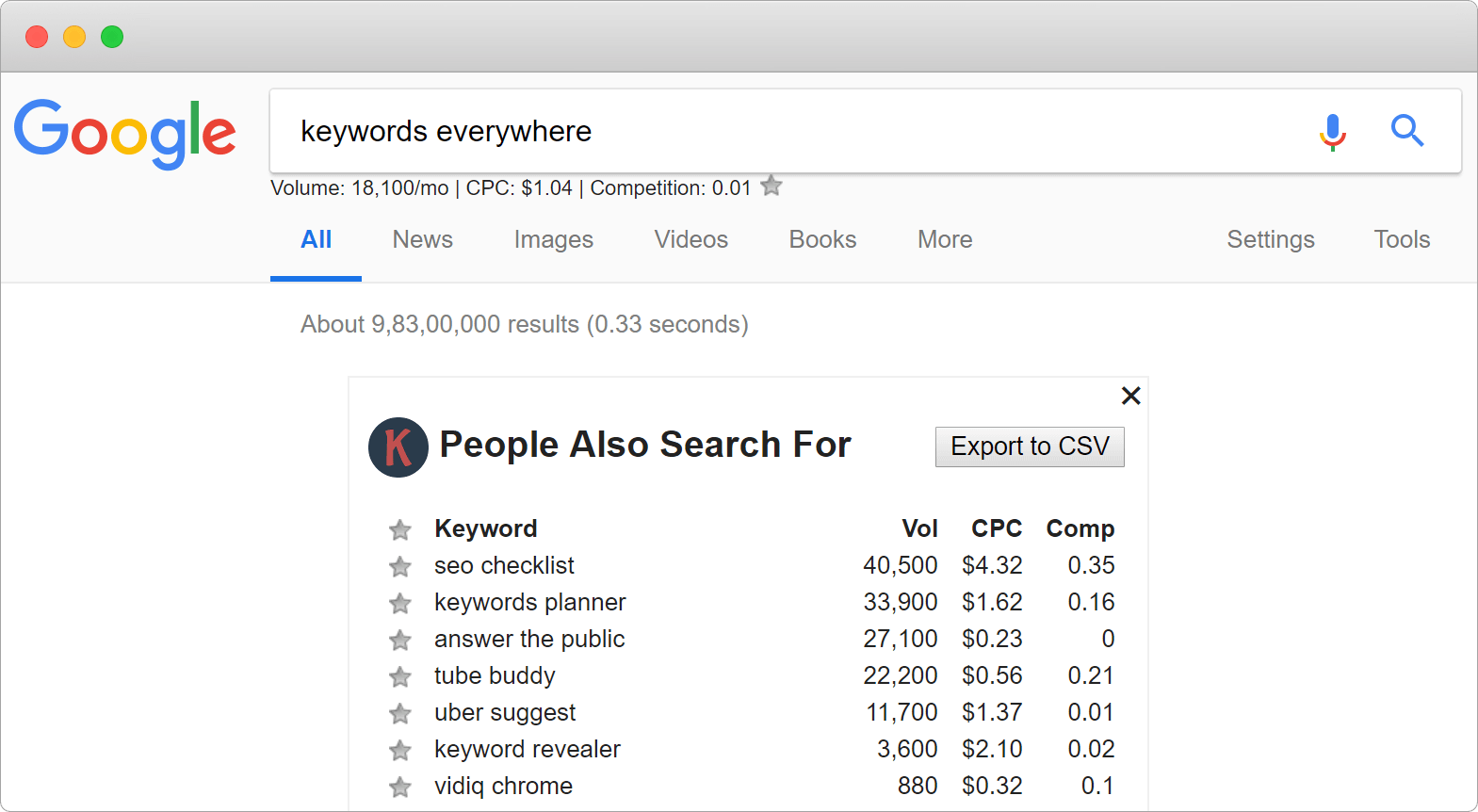 Keywords Everywhere is the first SEO tool I paid for. It's a browser plugin that runs over your Google search queries and it's really pretty sweet.
I have a browser exclusively for it - I don't want to accidentally waste my keyword credits Googling daily programming shit.
✅ No-card free trial or pre-paid
✅ Less than $100 per month
✅ reasonable amount of data
Keywords Everywhere have a free trial, but they also have prepaid credit packages, so little risk of sneaky monthly charges.
They're also super cheap. So cheap that at first I thought something was a bit dodgy. It just felt too good to be true. 🤔
But since Steph Smith recommended them, I decided to take a tentatively bite.
And it was worth it. They're so on the list.
---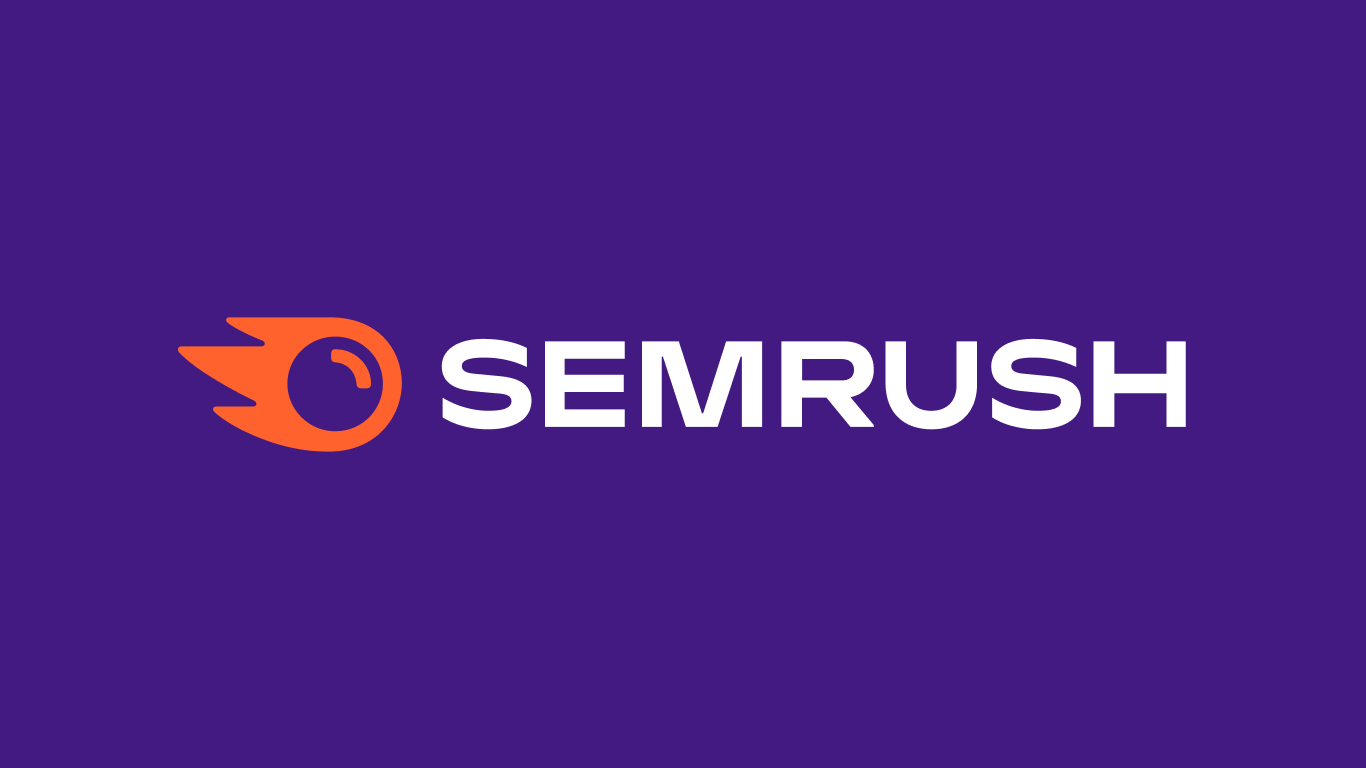 Another old, silver-back gorilla. I have my doubts.
Let's see if they make the list.
⛔️ No-card free trial or pre-paid
⛔️ Less than $100 per month
✅ reasonable amount of data
Nope. Didn't think so.
---
Great, that's it.
We now we have a list of candidates to consider. We have;
Mostly indies! I might do a review of the big boys later if you'd like. Let me now.
Evaluation approach
So how will we evaluate these options? I'll use 3 basic topics to explore each service.
Keyword research experience
UX
Bonuses
I will approach it from the point of view of a solo maker(which I am), trying to write a hypothetical SEO optimised blog post(like this one), by wasting as little time as possible(because no-one has that).
As for the niche, I'm going to use this site itself as my focus - maybe I'll get some great ideas on how to grow it!
However, keep in mind that the aim of this post is not to teach or show proper keyword research technique - it's to give you a basic overview of how these tools work. So let's not get bogged down in SEO research minutia.
To sum it up;
I'll be doing keyword research for ideas for an article for this site.
I'll also look for 3 related long-tail keywords, which could be used as subheadings for the article.
All searches will be done for keywords in English only, and with the US as the region, to keep things simple and standard.
---
First up is Katlinks.
The onboarding process was pretty good! I clicked to start a trial and it immediately asked me what my website URL is, presumably to start doing some research on what I'd need. It then asked for my email, with the promise of sending me some suggestions later on.
I followed along the onboarding walkthrough and eventually landed on the Keyword Research section.
Katlinks Keyword Research Experience
Well, RikReviews is about reviewing stuff for indie makers, but that's a kinda limited niche, so I started with "tools for startups" instead.
I could sort the keywords by search volume, cost per click, level of competition and filter by high intent keywords.
One thing I didn't spot was domain difficulty/authority. Not sure if I just missed it, but that's something I'd personally need in order to know what keywords to focus on. I saw a competition column for Pay Per Click,  but that's not quite the same, I have no interest in ads at this stage. But SAAS founders looking to grow with PPC ads would find this very useful.
One slightly confusing thing was that there appeared to be different search volume results for the same keyword. 🤔
Was the related keyword table somehow calculated differently? I had no idea. I just went with the one at the top of the page, since it seemed more "official".
(I think I finally figured out what was happening when a similar thing happened while exploring LowFruits - keep on reading to find out!)
The keyword research process was straight forward enough. The amount of secondary and related keywords it gave were very good and would easily allow me to figure out how to construct posts that would rank.
Katlinks UX
The app was easy to navigate - all the links to various features were available on the left, including stuff like an overview page, keyword tracking, rank tracking, competitor research and backlink analysis tools.
The app allows you to track your sites' ranking for your chosen keywords, which is pretty useful. This would help you see how your hard work is paying off.
Another cool thing is that the billing page shows you a clear overview of your usage. This would be quite helpful in making sure that you don't overdo it on your first day, especially on the lowest tier plan.
Katlinks Bonuses
Bonuses are any cool little extra's I didn't expect to be part of the service when I initially signed up. Katlinks definitely had some of that to offer.
There was this curious section under backlinks called Opportunities. I liked the sound of that. Click!
It basically gives you like 2 full pages of sites where you could add your URL for backlinks. The list seems to be mostly aimed at those with SAAS products, but for them, this list is as good as gold. 💛
The Backlink Gap feature was another sweet little treat on the menu. It allows you to enter some competitors URLs, and then goes off and finds out where they're getting backlinks and you're not. You can then close the ranking gap between them and you.
Overall, Katlinks is a pretty good indie-made keyword research tool, particularly for those who are busy growing a SAAS.
The lack of Domain Authority/Difficulty however, might mean that those with expert experience or those who run content sites might need to look elsewhere.
---
I just love the design on that landing page, wow. I mean, go look at it! Mangools should give their designer a raise, seriously.
I signed up, confirmed by email, dodged the immediate(and numerous) upsell attempts, and got started.
The dashboard offered a clear overview of everything available and was just as pretty as the landing page.
Mangools Keyword Research Experience
Mangools seems to consist of a collection of SEO related apps, and I started with KWFinder. It asked me to enter a keyword or a domain as a starting point.
I chose domain, since I wanted to see what it came up with. And it came up with nada. I guess my site's still too new?
OK then, I then just opted for the keyword "keyword research free tools".
And there was the keyword difficulty. It was big and highlighted, and was... not looking good.
A 67 Domain Difficulty would be hard to beat with 1 backlink. It would be hard to beat with quite a bit more backlinks too. In fact, looking at the SERP results on the right, it was clear that I'd have no hope in hell to knock someone off of the top 10 podium. Bummer.
The variants of keywords listed weren't that extensive, mostly just minor variations on the primary keyword. I'd need to do some more creative thinking for subheading ideas myself.
Well, the data was clear;  I'd have no chance ever to rank for this family of keywords. 😅
Sad and disheartening as that is, it's not the point of this post. The point is that it was pretty easy for me to just jump in and find exactly what I needed in just a couple of seconds from signing up. Mangools is a supurb SEO reseach tool.
Mangools UX
The UI was really, really slick. Everything was super fast and snappy, and felt well thought-out.
I could easily find whatever I needed, without much more effort than just doing a search. Finding and manipulating the data was also easy and obvious. I never felt the need to go look at any docs either - it was all intuitive and a pleasure to use.
Mangools Bonuses
Mangools also allows you to take a peek at your competitors backlinks. I put on my spy hat and started snooping. Boom, there it was! It practically overwhelmed me with instant results, fast like a Google search.
You also have the ability to install a browser extension which will give you keywords, backlinks and other goodies while you're browsing. Love it.
Using Mangools was a really pleasant experience. It feels like it should be competing with the big boys in both speed and ease of use. Highly, highly recommended.
It looks like it's aimed at more serious content folks though. The price(if you don't want to pay annually) was quite a bit higher than our other options.
That being said, I reckon Mangools is the perfect alternative to Ahrefs for those who will spend more time marketing than developing.
---
LowFruits was completely off my radar, to be honest, but after a solid recommendation by Andrea, I thought I'd give it a go.
I signed up and clicked on the generate keywords button. For the free account, I'm limited to 7 searches per 7 days, so I'd need to be super efficient.
LowFruits Keyword Research Experience
I started with "tools for startups".
It created a link to the results page, where it then gave me a solid list of keyword options. There were however no search volumes attached to them, which was a bit odd.
I remembered seeing a popup in the walkthrough somewhere that suggested I should enable search volume searching in settings first, so I went ahead and did that.
I waited a few seconds, refreshed and then had some search volumes to consider.
I did another search, this time for the "free keyword research tools",  and after enabling volumes again, immediately noticed something odd yet interesting.
The search volumes matched the ones from Katlinks that confused me so much! Hovering over the Volume heading gave me a clue as to what was going on.
When setting up my initial keyword search I choose to search for US region keywords. The volumes for the results however appeared to be for global searches! The same thing must have been happening in Katlinks. That would certainly explain things.
Mystery apparently solved, I pressed on. I clicked the analyse button next to one of the keywords to see what would happen.
It took a minute or so, and then updated the keywords listing row with a new button - a list view icon - and some more data in its row columns.
I clicked the list icon and was presented with what I assume is the SERP competition for this keyword, including what looks like their domain authority(and still no hope of ever ranking 🥲)
I could also now view things like the keywords' lowest Domain Authority in the top 10 SERPS, which is really useful.
There were also some filter buttons reducing results based on things like questions, related keywords, and a competition overview.
Then also for stuff like Intent, volume ranges and by whether your site is ranking in the top 10 to 100.
And one magic filter button called "LowFruits". This incredible button only showed you keywords with weaknesses in the top 10 or top 3 results.
This is THE key timesaving feature in the app. This would be the primary reason to sign up to LowFruits.
LowFruits UX
A lot of effort was clearly put into educational material and tutorials, which is impressive and rare for such a new indie site. The UI is also crisp, minimalist yet clear.
The one main complaint I had was that I had to do a lot of clicking to view my results and data. Otherwise, all pretty solid.
LowFruits Bonuses
I love that they have a public feature roadmap! That means you could be actively involved in the development of the project.
Another thing I appreciated was that you could buy prepaid credits instead of being forced into a subscription. This makes it very compelling and low-risk to get started.
LowFruits is certainly a promising new comer in the SEO research space, and I'm excited to see what they'll bring to the table in the future.
---
This was my first keyword research tool. And it's really sweet.
Keywords Everywhere is a browser extention that runs over your regular Google search results.
Keywords Everywhere has a free plan, which is great, but you can buy a bucket load of credits for only $10 once off, and then just use it to its full capacity. Tremendous!
That's like to cost of a domain on Cloudflare, which ya'll splurge on regularly(don't deny it).
To do a keyword search, all I had to do was hop on over to Google and search like usual.
Keywords Everywhere Keyword Research Experience
And right there under the search bar is our search volume. To the right is our domain difficulty and a whole slew of other goodies.
With one search query we also had access to related keyword data, some Google Autosuggests and some long-tails.
The CPC figures are in Rand, since I'm doing a search from South Africa. You'll also notice a competition(CMP) rating, which is a rating for the number of advertisers that are running ads for this specific keyword.
All of that, with just one search, right on your Google SERP. Very efficient.
Like with the other tools, the keywords results were also very closely related, sometimes too much so to feel useful. However, when I clicked on the long-tails, I started getting some really cool alternative suggestions on new search pages.
Keywords Everywhere UX
The UX consisted pretty much of just some table blocks overlayed on top of Google. Not too pretty. However, we're sacrificing pretty UIs for highly efficient, information dense views instead. I'll take it.
A noticeable con was that the keyword suggestions were not sortable by column, and also didn't not show the domain authority for each keyword in the other suggested and long-tail keyword results - you had to click and view them individually for that.
Keywords Everywhere Bonuses
You can view historical search volumes going back years, making trend spotting relatively trivial.
You'll also notice that each of your individual SERP results have their own search volume and keyword data available right there!
When you click on those, you'll be directed to a page giving you a nice and thorough breakdown of the sites' ranking keywords, SERP position, traffic volume and more.
Keywords Everywhere would be the tool I recommend for the most budget conscious founders out there.
It assumes a certain level of experience and knowledge already though, so won't necessarily hold your hand through the process, but if you know how to use it it can be almost as powerful as the big, bad gorillas.
Final Comparison
Keyword research doesn't need to break the bank. There are plenty of affordable options out there which would fit your exact needs pretty well.
My final recommendations are;
Thank you for reading.
Want to read some more time and money saving reviews? Check out the links below. 👇